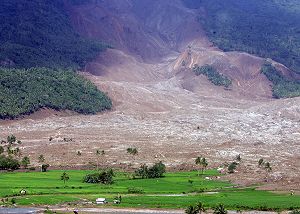 In the aftermath of the St Bernard (Southern Leyte) landslide that buried
Brgy. Guinsaugon
, the Provincial Government of Southern Leyte and the Municipal Government of St. Bernard received a lot of assistance from various organizations from all over the Philippines and abroad, for relief operations. Further, rehabilitation efforts have come to fore which were also participated by a large number of organizations locally and internationally.
To coordinate the efforts from the civil society and the business sector for the rehabilitation efforts, the Philippine Business for Social Progress (PBSP) is working with the St. Bernard Municipal Development Coordinating Council and the Provincial and Municipal Governments, to consolidate various rehabilitation efforts, especially on livelihood aspect. This led to the development of the Southern Leyte Rehabilitation Program.
The proposed Southern Leyte Rehabilitation Program is a comprehensive program designed to help the disaster victims recover in terms of: (1) housing; (2) access to basic services such as electrification, water, health and education; and (3) livelihood and income. The program also desires to optimize rehabilitation efforts to help victims improve their livelihood and realize incomes closer to if not above the poverty threshold level on a sustained basis.
Acknowledging the resources, interventions, coordination and time required to complete rehabilitation efforts, PBSP proposes to adopt Southern Leyte as a priority area using its Area Resource Management (ARM) strategy for the post-disaster rehabilitation program.
Consistent with PBSP's ARM, the Southern Leyte Rehabilitation Program shall have three (3) components:
Component 1.
Organizational Systems Development & Stakeholder Engagement
1. Formation, strengthening and mobilization of the Municipal Disaster Coordinating Council (MDCC) for the implementation of the rehabilitation program
2. Formulation of the Municipality's Disaster Preparedness, Prevention, Relief and Rehabilitation strategy and programs
3. Establishment of information and coordination hub to assist MDCC
4. Organization of beneficiaries into Homeowners' Associations (HOAs)
5. Rehabilitation, capability building and funding assistance to the San Isidro Multi-Purpose Cooperative on livelihood rehabilitation
Component 2.
Socio-economic Systems Development
1. Housing
2. Provision of basic services such as electrification, water, health and education
3. Livelihood rehabilitation
4. Enterprise development
Component 3.
Ecological Systems Development
1. Installation of Disaster Preparedness Plan
2. Development of Guinsaugon into a Memorial Reforestation Park
3. Reforestation and agroforestry systems development in the upland areas or hilly lands
THE PROPOSED REHABILITATION PROGRAM
As agreed with the MDCC, PBSP will take the lead in livelihood rehabilitation and shall coordinate with the municipal government, line agencies and donors in generating alternative livelihood opportunities for the disaster victims.
Strategies.
In consultation with the affected households and local stakeholders in St. Bernard and prospective donors in Manila, PBSP shall employ a combination of strategies:
Tapping paid labor and services of disaster victims in the rehabilitation projects e.g. house construction, production of hollow blocks for house construction, etc.
Support or scale up productivity for households with access to land and aquamarine resources
Explore opportunities with companies operating in So. Leyte, Cebu and Bohol for jobs and service contracts (e.g. maintenance, utilities, construction and other services)
Secure business opportunities (e.g. dealership, e-load business, purchase of home-made delicacies, etc.)
Promote and support off-farm livelihood activities
Support or scale up then existing off-farm livelihood activities such as sari-sari stores, trading, food vending, transport and other services, etc.
Scale-up production, promote and market local products such as peňato and other native delicacies and processed foods
Introduction of new livelihood activities related to product and by-product processing of existing agricultural crops such as virgin coconut oil, abaca-based gifts items, fashion accessories and household items, bamboo furniture, etc.
Introduction of trade skills-based livelihood activities such as cell phone and appliance repair, machinery, welding, masonry, etc.
Very-short term activities.
These will include food processing (meat, fish and vegetables), cosmetology, crochet, production of souvenir or novelty items from waste products, decorative candle making, bamboo and abaca based gifts, toys and house wares, reflexology, concrete hollow blocks making and even electronic load or pasa load.
Short-term livelihood activities.
These will include processing of virgin coconut oil, hand made paper making to support the bamboo and abaca based GTH, Quilting, Sewing, trisikad, food vending. Once the evacuees are resettled already, short-term projects like consumer store, sari sari store, bakery, mushroom culture, broiler and quail egg production can be implemented. The beneficiaries will also be encouraged to go into vermi composting and home lot gardening using the FAITH Concept (Food Always in the Home). The vermi composting project can also be a community effort to support the solid waste management of the resettlements. These economic activities shall be conducted within one to six months, after such gains are already ensured.
Medium-term economic activities.
These activities may be implement within six to twelve months. These may include bamboo based furniture making, handicrafts, GTH, ornamental plants raising, water station or refilling, ice making project and mariculture particularly for those households that will be resettled at barangay Magbagacay (a relocation site along the St. Bernard Bay).

Long-term economic activities. These will include skills training for young adults on various trade such as welding, masonry, carpentry, electricity, plumbing, cell phone and appliance repair among others. Trainees can be assisted in setting up their businesses after the training or find employment in So. Leyte or nearby provinces and cities.


More support to the Southern Leyte Rehabilitation Program is still welcome and requested. For more inquiries, please contact the following PBSP staff:

PBSP Visayas Regional Office
4th Floor, PLDT Building
Juan Luna Avenue, Mabolo
Cebu City
Tel. Nos. (032) 232-5270/232-5283
Fax No. (032) 232-5286

CONTACT PERSONS:

Leo Dionisio H. Hilado
Director for Operations
Email: lhhilado@pbsp.org.ph

Jessie M. Cubijano
Communications Officer
Email: jmcubijano@pbsp.org.ph

Raymund L. Bandalan
Project Officer
Email: rlbandalan@pbsp.org.ph

PBSP Head Office
2/F PSDC Building
Real corner Magallanes Streets
Intramuros, Manila
Tel. Nos. (02) 527-7741 to 52

Ramon R. Derige
Deputy Executive Director
Email: rrderige@pbsp.org.ph